The end of July in San Diego is a special time of year for hundreds of thousands of comic fans. They dress as super heroes or super villains, both classic and newly-minted, and swarm the convention center for perhaps the largest geek-gathering in the world: the annual Comic-Con International. This year was the 41st edition of the event and word on the street is that tickets sold out in record time.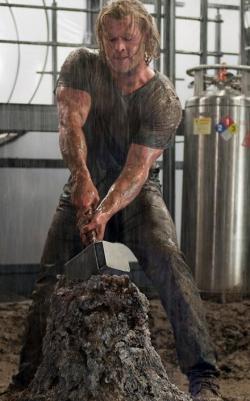 (You know what they say, "No pain, No Magic Hammer.")
One of the highlights of this year's fest was the press junket by the stars of next year's Thor movie. Natalie Portman is one of the stars in the latest in a series of adaptations based on classic Marvel Comics titles, and she appeared before a packed hall along with the rest of the cast. With the many successful comic book adaptations produced recently and the huge Web word-of-mouth power generated at Comic-Con, it's no surprise that Hollywood is all over the convention. Even Angelina Jolie made an appearance to do some last-minute promotion for her film, Salt. The only thing is, Salt doesn't have anything to do with comics! Fans may wonder whether Comic-Con should more accurately be titled something like, "Movie-Con (with a Special Focus on Flicks at least Somewhat Related to Comics, though not Necessarily So)", but there's no doubt that Hollywood's massive presence represents its economic might and it's not likely to go away. Of course, it also represents the box-office success of comic book adaptations such as the various X-Men and Iron Man films, among others (including Hulk, directed by Taiwan's Ang Lee).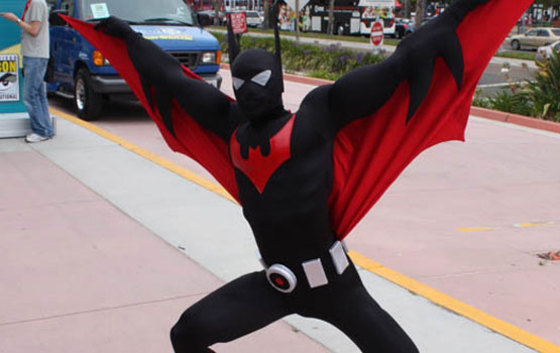 ("My superpower is spandex.")
How is San Diego's Comic-Con different from Taipei's? Leaving aside the differences in scale between the two, what stands out the most is the ever increasing focus on movie and TV exploitation on the American side, along with the fundamental influence of Japanese manga and anime on Taiwan's event. There are some classic differences between the Japanese manga tradition and Western comics. Manga is usually black and white, small format, but lengthy. Western comics are usually printed in color, are larger format but shorter in length. Western comics also typically contain more dialogue per page. On the film side, Western movie adaptations of comics are usually live-action films, not animations. Perhaps there is a Western bias against animation as being for children?
What I find really interesting is how, despite the differences in the comic and graphic novel traditions in the East and West, each side seems to be taking inspiration from the other. Japanese animation have been for decades adopting American and European themes into its movies, from Miyazaki's Howl's Moving Castle to Delta Quest, anime based on a New Zealand best-seller. A friend, who taught at CalArts, set up booth at Taipei's ComicCon this year to sell limited edition artworks from Hollywood animators. This has never happened before and her products were very well received. On the North American side, the just-released, live-action film Scott Pilgrim vs. the World is based on graphic novels by a Canadian cartoonist using a manga-influenced style. In San Diego, the film's press junket drew a huge crowd and an unannounced full-length preview screening had ecstatic fangirls and boys swooning. I think this continuous cross-pollination of content, influence, genres, nationalities, etc will result in hopefully one day the ComicCon, whether held in Tokyo, Taipei, or San Diego, being so diverse that no one genre dominates. And amongst this Japan/US synthesis, Taiwanese elements are making their way in.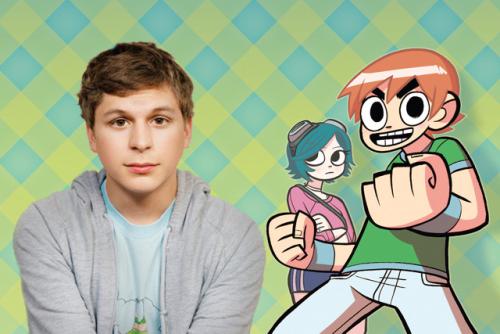 (Scott Pilgrim vs... Michael Cera)
Where does Taiwan fit into the new cross-cultural, multi-platform world of comics, animation, and film adaptations? Well, there's home-grown megastar Jay Chou (fresh off the flop of his Chinese-language superhero drama, Panda Men) acting as sidekick Kato in next year's Green Hornet movie (also featured at Comic-Con). This is going to be the first of many breakthroughs for Taiwanese talents, and I'm just glad that the first major megastar to make it shares my first name. ;)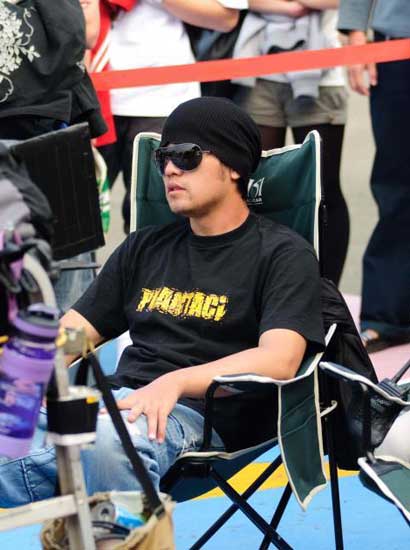 ("No one will recognize me on set in my secret panda shades." - Jay)
Thoughts or comment? Email Jay at jlin@porticomedia.com.